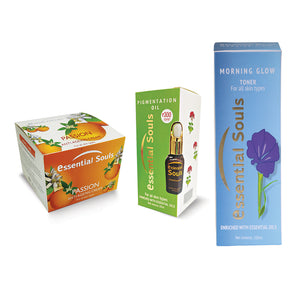 Passion 50g - Essential Souls Passion Anti-Ageing Cream is a breakthrough anti aging cream that delivers results with pure essential oils, while enhancing skin vitality and radiance. Formulated with the essential oils of lavender, geranium, petitgrain and juniper berry, this cream visibly reduces the appearance of ageing signs such as fine lines and wrinkles. It will also smooth and refine the skin texture and while imparting a natural glow. Regular use of this cream will revitalize and boost radiance and will leave your skin looking and feeling fresher, firmer, and lifted.
Pigmentation Oil 20ml - Essential Souls Pigmentation Oil contains essential oils Frankincense, German Chamomile, Patchouli, and Geranium. This active formula helps reduce pigmentation scars, tanning and freckles.
Morning Glow Toner 100ml - Essential Souls Morning Glow Toner has a natural formula that restores the suppleness to environmentally stressed skin. This toner delivers antioxidants to fight free radicals and keep the skin clean and clear. This product comprises pure essential oils of geranium, lavender and ylang ylang that tone and brighten skin for a healthy radiance. This toner helps maintain the elasticity of the skin leaving the skin looking fresh and glowing. It also helps to balance the moisture and oil content of the skin.