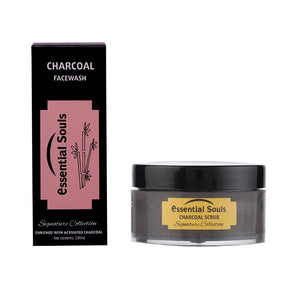 Charcoal Facewash - Enriched with activated charcoal, Essential Souls Charcoal Face Wash works both as a cleanser as well as an exfoliant. Designed to suit all skin types, this face wash lightens, brightens and detoxifies the skin. Regular use of it will leave your skin clean, clear and glowing.
Features:
Captures and draws out toxins like impurities, dirt, pollution, makeup, sweat, and excess oil while leaving skin fresh and looking healthy.

Gently removes excess oil without drying your face. It also unclogs pores, leaving your skin soft and supple.

Get healthy, glowing, and oil-free skin with the goodness of nature.
Charcoal Scrub - Formulated using activated charcoal, known for its ability to even remove deep seated grime, dirt and bacteria that causes acne, Essential Souls Charcoal Face Scrub keeps impurities away. The charcoal in it helps to get rid of scars, blackheads and whiteheads and leaves the skin squeaky clean.

Features:
Exfoliating scrub that removes dirt, toxins, and acne-causing bacteria that clog pores. 

Enriched with goodness of activated charcoal

Gently massaging the scrub on your face and neck which removes dead skin, and delivers a healthy glow.