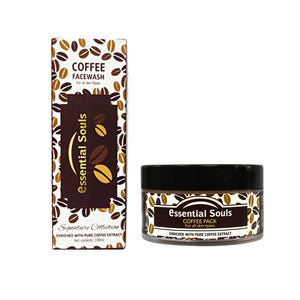 Coffee Facewash - A face wash with the freshness of Coffee, packed with antioxidants that help fight free radicals and slow the ageing process. Essential Souls Face Wash is packed with antioxidant, anti-inflammatory, and anti-aging ingredients. It tightens pores, reverses sun damage, and stimulates blood flow leaving you with even-toned and healthy skin. Coffee increases collagen production to give your skin a youthful appearance. 
Feature:
Removes excess oil, dirt, grime and other impurities from your face. This coffee face wash will leave your skin thoroughly clean and oil-free without making it dry or stretchy.

Coffee work together to instantly revive dull and tired-looking skin by boosting blood circulation. They also stimulate collagen production to plump up skin.
Coffee Pack - This product is particularly good for reducing the appearance of cellulite on the skin by dilating blood vessels and reducing the appearance of ageing lines. It helps in cleansing the pores and stimulates the blood flow to the skin which results in the dilation of blood vessels. This helps in tightening the skin and giving it a glow!
Features:
Firms the skin, It reduces sagging and puffiness under the eyes.
 It is also an anti-inflammatory agent that helps leave the skin smooth and clear, fighting acne and other skin issues like swelling, redness and so on.
A face pack is a perfect skin care treatment as it deep cleanses, unclogs pores, adds a natural glow and relaxes the skin.