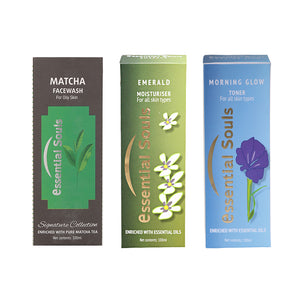 Matcha Facewash - Give your skin a burst of freshness with Essential Souls Matcha Face wash. Matcha green tea is a powerful antioxidant and hence, it is loaded with anti-aging properties that help keep aging signs at bay. This face wash works as a skin renewal agent that clears and evens out your complexion. Regular use of it can even treat acne and reduce the appearance of blemishes. This refreshing face cleanser gives protection against UV rays and treats sun damage. It also considerably reduces skin redness and rashes. Enjoy the health benefits of matcha green tea in the form of a cleansing and moisturizing face wash.
Morning Glow Toner - Essential Souls Morning Glow Toner has a natural formula that restores the suppleness to environmentally stressed skin. This toner delivers antioxidants to fight free radicals and keep the skin clean and clear. This product comprises pure essential oils of geranium, lavender and ylang ylang that tone and brighten skin for a healthy radiance. This toner helps maintain the elasticity of the skin leaving the skin looking fresh and glowing. It also helps to balance the moisture and oil content of the skin.
Emerald Moisturizer - A luxurious moisturizer that promotes smooth, healthy-looking skin. It delivers twice the hydration all day, leaving skin silky soft, springy and absolutely radiant. Maintains optimum moisture balance. For all skin types.