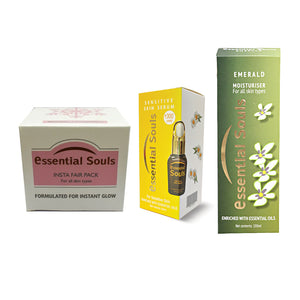 Insta Fair Pack 50g -
Specially formulated face pack with an alluring aroma that gives an instant glow. Insta Fair Pack helps to reduce the production of melanin, improve skin texture and bring glow to the skin. The regular use of this pack will lead to a fairer, radiant and brighter skin.
Skin brightening pack with nourishing properties of natural ingredients.
Improves skin texture and promotes fresher, clearer skin
Provides a radiant and healthy glow
Suitable for all skin types
Sensitive Skin Serum - This is a smooth silky-textured, deeply hydrating serum which contain German Chamomile. It is a must have for sensitive skin which gets easily impacted by allergies and pollution and other factors, Can even be applied before makeup too. It is an essential part of sensitive skin care routine.
Emerald Moisturizer - A luxurious moisturizer that promotes smooth, healthy-looking skin. It delivers twice the hydration all day, leaving skin silky soft, springy and absolutely radiant. Maintains optimum moisture balance. For all skin types.
Gives Instant Glow to your face

Makes your skin sensitive free using sensitive skin serum

Maintains optimum moisture balance for all skin types. Non-sticky. All skin type.