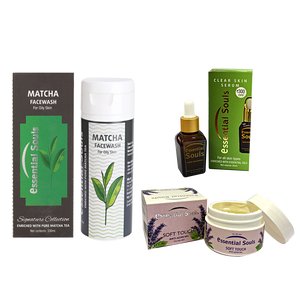 Essential Souls Matcha Facewash - Give your skin a burst of freshness with Essential Souls Matcha Face wash. Matcha green tea is a powerful antioxidant and hence, it is loaded with anti-aging properties that help keep aging signs at bay. This face wash works as a skin renewal agent that clears and evens out your complexion. Regular use of it can even treat acne and reduce the appearance of blemishes. This refreshing face cleanser gives protection against UV rays and treats sun damage. It also considerably reduces skin redness and rashes. Enjoy the health benefits of matcha green tea in the form of a cleansing and moisturizing face wash.
Essential Souls Clear Skin Oil contains essential oils Tea Tree, Lavender French, German Chamomile and Geranium. This active formula helps reduce acne scars and pimples.
Essential Souls Soft Touch - Introducing our Acne Prevention product, SOFT TOUCH - a powerful gel to combat acne-prone skin. Infused with the natural ingredients of Tea Tree and German Chamomile, this product is designed to soothe, nourish, and protect your skin while preventing acne breakouts.
SOFT TOUCH is perfect for those with oily and acne-prone skin. It's a lightweight, fast-absorbing formula that won't clog your pores, and it's gentle enough to use every day. Simply apply a small amount to your face, morning and night, for best results.